What We Do
Our Mission

The Laguna de Santa Rosa Foundation works to restore and conserve the Laguna de Santa Rosa, and to inspire public appreciation for this Sonoma County Wetland of International Importance.

For 25 years, the Laguna Foundation has been the voice for Sonoma County's most spectacular land and water asset - The Laguna de Santa Rosa.
Working closely with our partners and collaborators on conservation, restoration and education programs, we focus our efforts to:
Collaborate with landowners, government agencies, businesses and the agricultural community to improve water quality and groundwater resources for all.

———

Protect threatened and endangered plants and animals by restoring habitat.

———

Attract ground-breaking scientific research to the Laguna watershed.

———

Bring together technical experts, land managers and policymakers to create effective climate adaptation strategies that preserve natural resources, biodiversity, and ecosystem services.
Remove invasive species including water primrose, pepperweed, Harding grass and pennyroyal.

———

Educate and inspire people of all ages to appreciate the Laguna through school programs, workshops, and volunteer opportunities.
What's New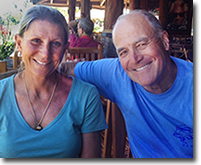 Victor and Karen Trione Pledge $50,000 Matching Grant
Sonoma County philanthropists Victor and Karen Trione have pledged to help fund Laguna Foundation's long-range, science-based programs. They will match all gifts up to $50,000 made by December 31, doubling your gift to Sonoma County's internationally recognized wetland area.
Click here to make a donation. Click here for more information.
__ __ __ __ __ __ __ __ __ __ __
Garden Volunteer Day!
Friday, Jan 9, 9am-Noon
Share your passion for pollinators by helping our native plant garden thrive! Volunteers are essential in beautifying our site. Details here.
__ __ __ __ __ __ __ __ __ __ __
Laguna Stewardship
Day for Families!
Saturday, Dec 10, 9am-Noon
Join us for this fun and meaningful way to volunteer while enjoying the outdoors with your family. Tasks will depend on the weather but may include planting native plants and trees, weeding, and tending to restoration plantings. Details here.
__ __ __ __ __ __ __ __ __ __ __
Learning Laguna
Docent Training 2017!
We are recruiting new volunteers to teach our 2-4th grade school program. Mark your calendar and sign-up now for a fun learning journey and rewarding volunteer experiences. Training takes place on Mondays between March 13-May 22, 2017. Details here.
__ __ __ __ __ __ __ __ __ __ __
Public Education
Check Out Our Events!
Join us for fun indoor and outdoor learning adventures. New walks, talks & classes added often!
Full schedule here.
Coming soon: